Celebrating 5th Anniversary, Mobile Legends Holds 'Legends Assemble' Fun Match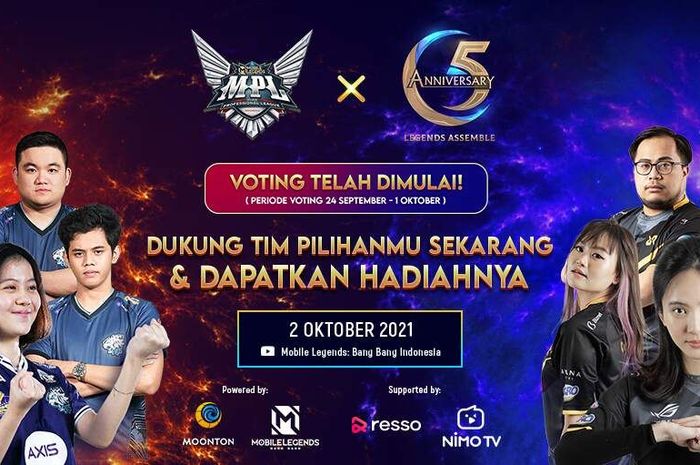 Legends Assemble, fun match pro player and former pro player Mobile Legends
GridGames.ID – 2021 will be the fifth year that the MOBA genre mobile game, Mobile Legends: Bang Bang (MLBB), is released.
In order to celebrate the 5th Anniversary this September, MLBB presents an event themed 5hare Fun, Forge Legends.
There are many activities that players can do in the game with various prizes, ranging from new skins to other exclusive items.
Also Read: UI Differences in Mobile Legends for 2021 and 2021. Much Fresher!
Interestingly, as a series of the 5th Anniversary event of the game made by Moonton, a fun match with the theme of Legends Assemble will also be held.
This special anniversary match will invite several pro-players and ex-pro-players from two major esports teams, namely EVOS and RRQ.
The Evos team will consist of Funi, Rexxy, Revicii, Oura and Donkey, while the RRQ team will be represented by Vivi, Wizzking, Taka, Barier and Quinnie.
Also Read: Latest Mobile Legends Redeem Code September 2021, Give Free Diamonds
"This year MLBB celebrates its 5th anniversary and as a form of our appreciation to all the players who have given a lot of support to MLBB, we present a Fun Match entitled Legends Assemble. Players will be able to see the extraordinary games of the two big teams in MLBB, namely EVOS and RRQ and we hope this can be the best offering for all MLBB users," said Summer Ding, Head of Indonesia Marketing – Moonton Games.
PROMOTED CONTENT
Featured Videos